I'm back doing Awkward and Awesome! I racked up a few awkwards for the week.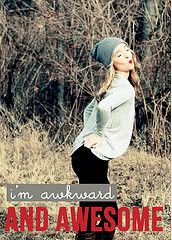 ~This was actually from last week and I forgot about it. Stuffed peppers take longer than 30 min to cook. Poor Hubs was eating them cruchy before he had to go to his fire meeting. He did nuke one in the microwave and it got a little better.
~Losing an epic battle to some white velvet. While wearing dark clothing. It looks kind of like this:
A word to novice seamstreses like myself. Velvet is sooo not worth the trouble. It puckers and buckles when you try to sew it. And it leaves its dust everywhere. That pile of velvet is still sitting in the floor mocking me everytime I go in my sewing room. If you want it, it's free to a good home. As long as it doesn't eat the mailman on the way there.
~Still having velvet dust on your pants after washing them, but being late-ish for work and having to wear them anyway.
~Having a to-do list that never gets shorter, it only grows.
~Eating half a box of Better Cheddars for lunch yesterday.
~Hubs saying that the stuffed peppers were amazing once they were cooked all the way through.
~Seeking revenge on the velvet by buying some really nice white flannel
~Realizing that the lady at the fabric shop didn't charge me full price for said flannel
~Getting some of my zippers sorted out so I know what Travel Kits I can make with which fabrics
~Washing my prized sweaters from Goodwill to make my sweater punkins
~My mother-in-law's birthday party on Sunday (her birthday's saturday, but we can't get the family together until Sunday). We're having vegetable soup and corn bread for sure. And some other stuff.
~The birthday card I made for a coworker's niece:
I think I'm gonna start writing my Awkwards down as they happen. I keep remembering things from weeks past. Maybe I shouldn't though. It makes me realize all the awesome stuff that happens to me every week.