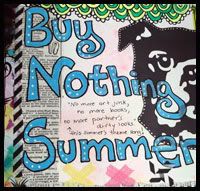 Yep, that's right, I gave into temptation. But I did go a solid two weeks without buying ANYTHING. And I do feel that my purchase was justified. First of all I got a few things that I reallly and truly needed.
I was running low on the fusible interfacing and it was on sale. I only had one snap left. I thought I was about out of key rings, turns out I had a whole 'nother pack, but I got 20 of these for the price of 6 elsewhere...it was a good buy. And the fat quarters were to make sure I could relist a wallet in these colors.
Now on to the Fail...
In my defense, I had a custom request for a black and yellow wallet. I just already had some black and yellow fabric that I
could
have used, but I liked this much better. And the grey and pink and pear fabric were on clearance for a dollar a yard. A DOLLAR! And I had to get matching fat quarters to line wallets and bags with. And zippers. But that's all I bought! So I suppose I'm doing good. Plus Hubs told me that I didn't buy them, that they are a present from him. (That really makes no sense since all of our money goes into one bank account.)
And I found the Etsy shop of all Etsy shops. Well, Jenilyn showed it to me.
Zipit
has wholesale zippers for a quarter of what I can buy them in the fabric store. And that's calculating shipping in. I'm gonna be buying a sampler pack like seen here -->
8 inch Zipper Sampler
then I can decide which colors I need more of.
Zippers fall under the category of things that I may run out of that I need. They don't count in the Buy Nothing Summer.
So, yes, I did fail, but not much. I'm hoping my newest purchases can keep my happy for a while. If not, I'll just go get my toes painted at the nail salon. I may just do that anyway.