Well here it is. I finally got the motivation to finish it. Well, I got frustrated at another project and didn't have anywhere else to turn. I actually did want to have it finished before this weekend so I can take it to the beach with me. Hubs and I are going to Cherry Grove with our Sunday School class and found that it's easier to pack separate for little weekend trips like this. So it's finished. And I'm rather proud of it.
(The above was said because I don't ever wear cutesy clothes, Hubs and I never see each other, and come on, is it ever daylight in SC at 1AM? I work at a hospital. I wear scrubs. Hubs and I really only sleep in the same bed. I feel like when I start my new job we'll have to have another wedding ceremony because I sometimes I feel like I only see him as much as when we were dating. That was a long bit to put in parentheses.)
Seriously though, I don't know how so many of you bloggers have such beautiful blogs and pictures. If I had them, it would make my life a lie.
ANYWAY...
Onto the bag...
The Grand Plan was to sell these Duffel Bag sets in my shop, but since it was a rather pain-in-the-butt to make, it doesn't look like that's going to happen. Unless someone messages me and says they're willing to pay a butt load of money for it, in which case, I might oblige. The makeup bag is definitely a keeper for the shop though.
Now...on to the beach so I can test this baby out!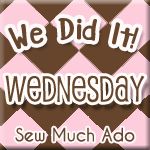 Linking up here!